Posts 2.10.2023
Inside information: Gofore Plc's Business Review 1-31 August 2023: August net sales 16.9 million euros, big wins on tenders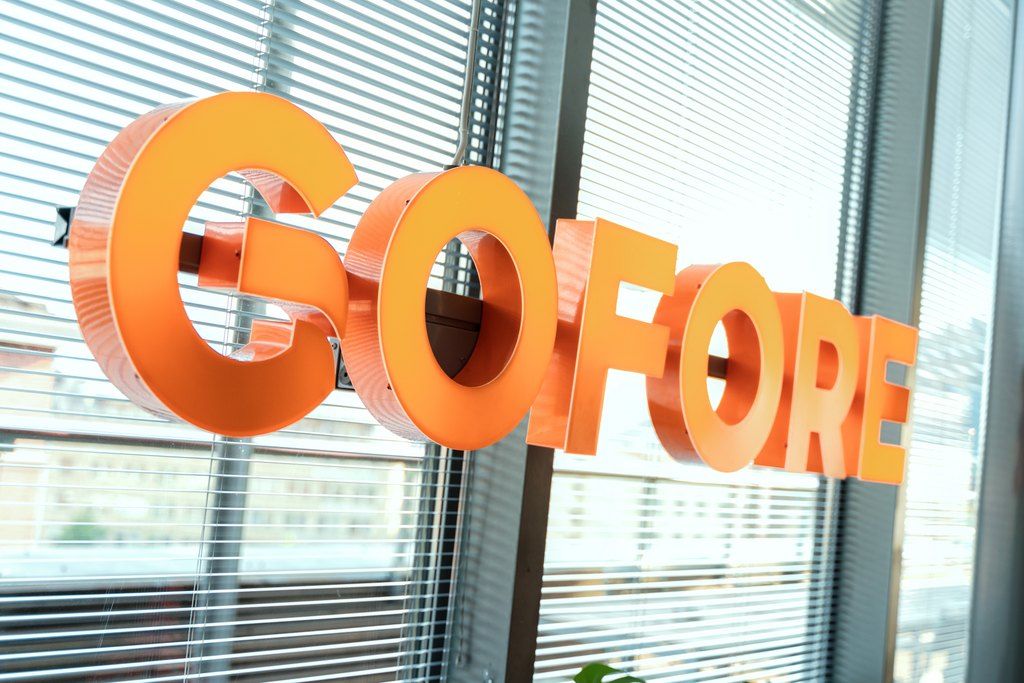 11.9.2023 12:00:00 EEST | Gofore Oyj | Inside information
Gofore Plc 11 September 2023 at 12.00 noon EET Inside Information
Inside information: Gofore Plc's Business Review 1-31 August 2023: August net sales 16.9 million euros, big wins on tenders
Inside information: In August 2023, Gofore's net sales were 16.9 (12.9) million euros. The last 12 month (LTM) pro forma net sales were 186.1 million euros in August. The Group employed 1,448 (1,086) people at the end of the month. Figures include those of Creanex Oy, consolidated into the Group on 3 July 2023.
CEO Mikael Nylund comments:
"Our August net sales were 16.9 million euros million euros, August still partly being a holiday month in Finland. In addition to annual holidays, net sales were negatively affected by billing rate that was less than target level, as in June.
The number of our employees grew nicely by 25 people. We especially recruited experts for our advisory services, thanks to the better customer demand in that area. Digital transformation is not canceled or even on a break. Instead, our clientele is still working to prepare for transformation projects that we strive to offer comprehensive help and service for.
Unfortunately, the summer did not see clear changes for the better for macro economy indicators. However, we did see positive signals in the market, such as our single biggest win in August, an architecture consultancy frame agreement tender of the Finnish Transport and Communications Agency Traficom. Gofore was chosen as number one supplier on all four areas of the tender. The customer's estimate on the total value of this five-year frame agreement is 15 million euros. This decision's appeal period is ongoing. We communicated this on 31 August, 2023. The original release can be found here: https://gofore.com/en/news/inside-information-gofore-wins-in-all-parts-of-traficoms-tender
We also won a cloud partnership tender by the state organisations' ICT partner, Valtori. We were chosen for two out of three areas of expertise: AWS (Amazon Web Services) experts and Cloud experts. This is a frame agreement, the value of which for us in the agreement period 2023-2027 is an estimated 1.5-2 million euros. The frame agreement is a continuation of our earlier cooperation within the same size class. This decision's appeal period is ongoing.
The delightful new agreements in August also included another example of Gofore being a very valued expert in the field of education. We are involved in a joint project of the Ministry of Education and Culture, Ministry of Economic Affairs and Employment, Finnish National Agency for Education, and the Development and Administration centre for Centres for Economic Development, Transport and the Environment and employment offices. This project combines Studyinfo and Job Market Finland that we have previously helped create, into a new kind of digital service entity that supports transitions between education and work life in different stages of life. Expert demand of the project that kicks off this month will be defined down the road, and our current estimate of our share of the value of this project carried out in 2023-2025 is about 4 million euros. After 2025, the project has an optional one-year continuation.
Integrating Creanex has proceeded well. In this early stage, we have focused on integrating their expertise and services into Gofore. Creanex is mixing with the Intelligent Industry offering and team rather naturally.
In June, we communicated a win together with Knowit on the visa information system tender of the Ministry of Foreign Affairs. We also communicated that a rectification claim was made on this procurement. The Ministry has since stated that the rectification claim is unfounded. A final decision in the matter is now with The Market Court that will solve the appeal."
Key Figures
The numbers are unaudited.
| Month 2023 | Net sales, MEUR 1 | Pro forma LTM Net sales 2 | Number of employees at end of period 3 | No. of working days in Finland | Full Time Equivalent, FTE 4 | Subcontracting, FTE 5 |
| --- | --- | --- | --- | --- | --- | --- |
| January | 15.8 (10,8) | 160.6 | 1,318 (993) | 21 (20) | 1,225 (917) | 186 (147) |
| February | 15.3 (11,3) | 164.2 | 1,342 (1,015) | 20 (20) | 1,256 (942) | 184 (153) |
| March | 18.1 (13.3) | 168.0 | 1,354 (1,043) | 23 (23) | 1,271 (968) | 189 (155) |
| April | 14.5 (11.5) | 170.6 | 1,385 (1,056) | 18 (19) | 1,293 (988) | 187 (156) |
| May | 17.2 (13.1) | 174.2 | 1,400 (1,068) | 21 (21) | 1,311 (1,004) | 192 (163) |
| June | 15.9 (12.5) | 176.5 | 1,396 (1,074) | 21 (21) | 1,319 (1,015) | 170 (162) |
| July | 5.9 (4.1) | 182.5 | 1,423 (1,062) | 21 (21) | 1,341 (1,004) | 83 (78) |
| August | 16.9 (12.9) | 186.1 | 1,448 (1 086) | 23 (23) | 1,353 (1 016) | 166 (156) |
Unless otherwise stated, comparing figures presented in brackets refer to the corresponding period of the previous year.
eMundo GmbH's figures have been consolidated into Gofore Group's figures as of 1 November 2022, and Creanex Ltd's numbers as of 3 July 2023.
1) Net sales, MEUR (net sales in 2022) indicates the unaudited net sales for the month in question. 2) The last twelve months (LTM) pro forma net sales figure that the company uses tells the net sales for the Group structure of the time of reporting. The pro forma net sales include the impact of acquisitions and divestments and is unaudited. 3) Number of employees at the end of the review period.
4) Overall Capacity, FTE (Full Time Equivalent) figure shows the overall capacity of the Group's personnel, converted into a value corresponding to the number of full-time employees. The figure includes the entire personnel, regardless of their role. The figure is not affected by annual leave, time-off in lieu of overtime, sick leave or other short-term absences. Part-time agreement sand other long-term deviations from normal working hours reduce the amount of overall capacity in comparison with the total number of employees. The personnel capacity of corporate acquisitions has been accounted for as of the date of the acquisition. 5) Subcontracting, FTE (Full Time Equivalent) figure shows the overall amount of subcontracting used in invoiceable work, converted into a value corresponding to the number of full-time employees. The subcontracting of the companies acquired by Gofore has been accounted for as of the date of the acquisition.
Gofore's financial reporting
In its monthly business review, Gofore discloses its monthly net sales, last twelve-month pro forma net sales and number of employees with comparison figures, as well as other indicators that help evaluate the company's growth strategy execution, such as the Full Time Equivalent (FTE) numbers that describe overall capacity and the ratio of subcontracting.
Monthly business reviews are published as soon as possible after the numbers are in, at the beginning of the following month for February, April, May, July, August, October, November, and December. Exceptions to this are January's numbers, included in the full-year financial statements release and March numbers, included in the January-March interim report, and June numbers, included in the half-year report. Gofore also publishes IAS34 compliant interim reports quarterly.
Contacts
Mikael Nylund, CEO, Gofore Oyj, +358 40 540 2280, mikael.nylund@gofore.com
About Gofore Oyj
Gofore is an international digital transformation consultancy with Finnish roots. We have 1,400 impact-driven people in 19 locations across Finland, Germany, Austria, Spain, Estonia and Italy. With our technology and business expertise we build an equal digital society and create sustainable solutions for the intelligent industry. Our diverse group of professionals shares a pioneering ambition to create a more humane, sustainable and ethical digital world. Our values guide our business: Gofore is a great workplace that thrives on customer success. In 2022, our net sales amounted to EUR 149.9 million. Gofore Plc's share is listed on the Nasdaq Helsinki Ltd. in Finland. Our vision is to be the most significant digital transformation consultancy in Europe. Learn to know us better at gofore.com
Sign up for our Gigsletter
Get notified of any new gigs once they are published! The email is delivered on weekdays. Your email will not be used for any other marketing purposes.